Icelandic-Danish artist Olafur Eliasson said, "Art helps us identify with one another and expand our notion of we – from the local to the global." Thus to build a stronger notion of 'we' the arts must diversify and prioritise racial justice. 
The murder of George Floyd in 2020 placed anti-racism at the forefront of people's minds. The arts sector joined others with public displays of allyship through published anti-racist statements and policies. The need for change was too big to ignore. 
What's changed since 2020?
Earlier this year Inc Art produced A year of anti-racist action 2021, a report exploring how arts organisations had progressed in their commitment to racial justice a year on from George Floyd's murder. 
Using a sample of 83 organisations funded by Arts Council England (ACE) and the Department for Culture, Media and Sport (DCMS), the report found that: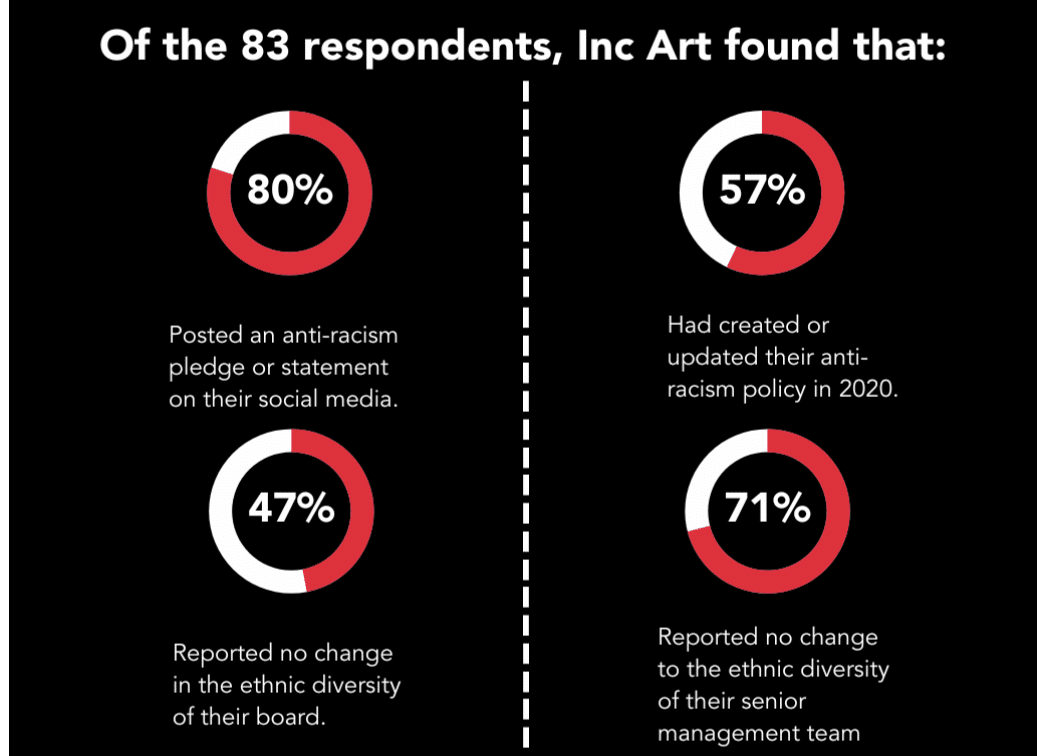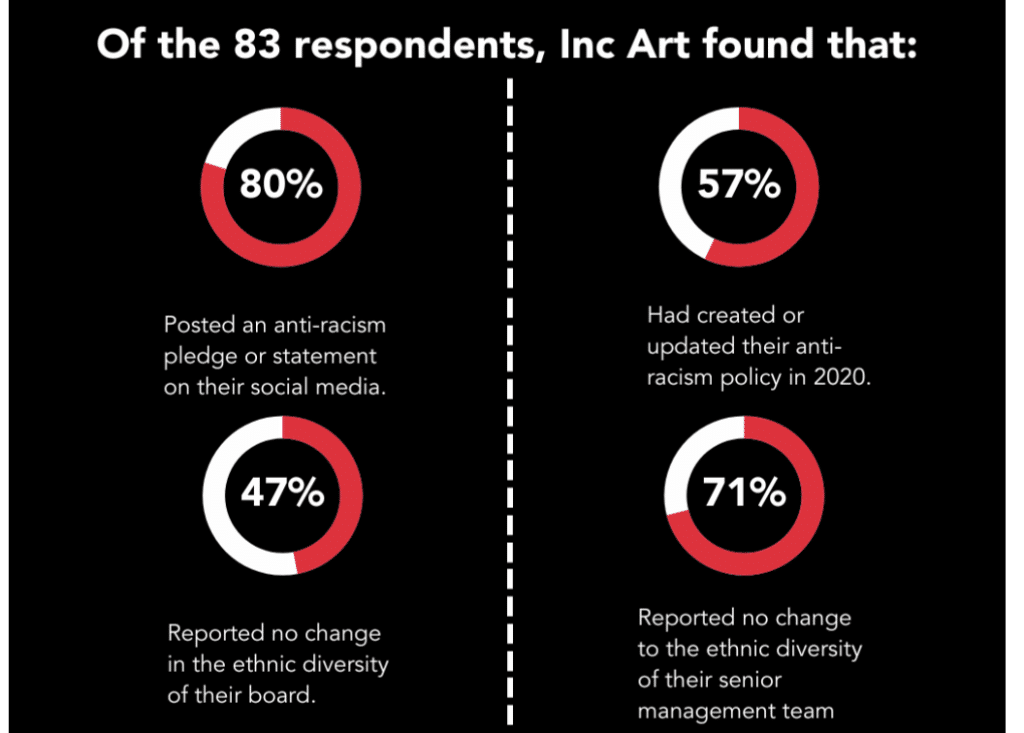 The report also found that:
White, middle-class people are much more likely to be in arts management roles. Higher-level jobs are not filled by people from a working-class background and racially minoritised groups are not likely to move into these positions.
What further change is needed according to the report? 
The report highlights three critical areas for arts organisations to assess and prioritise as follows: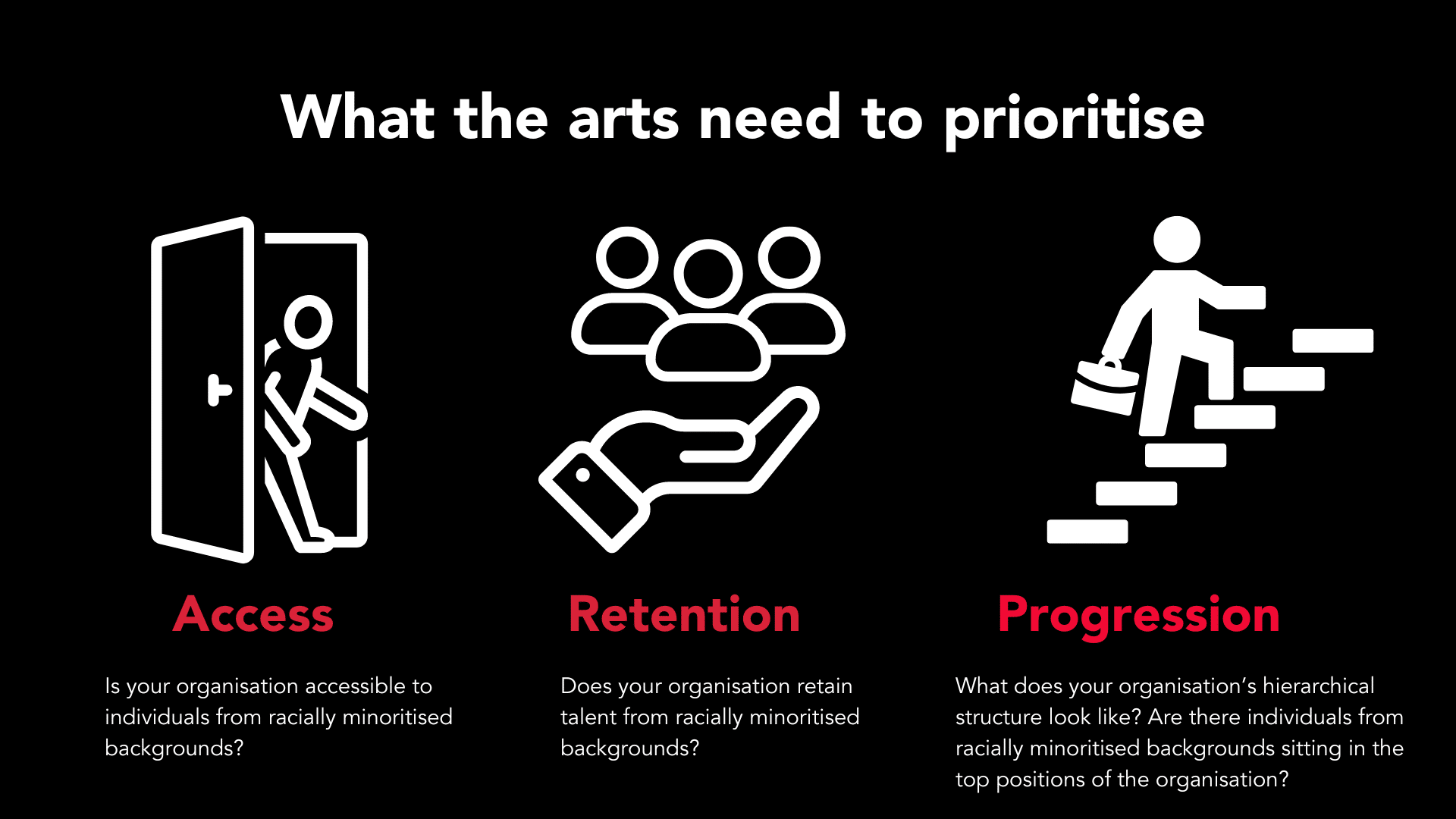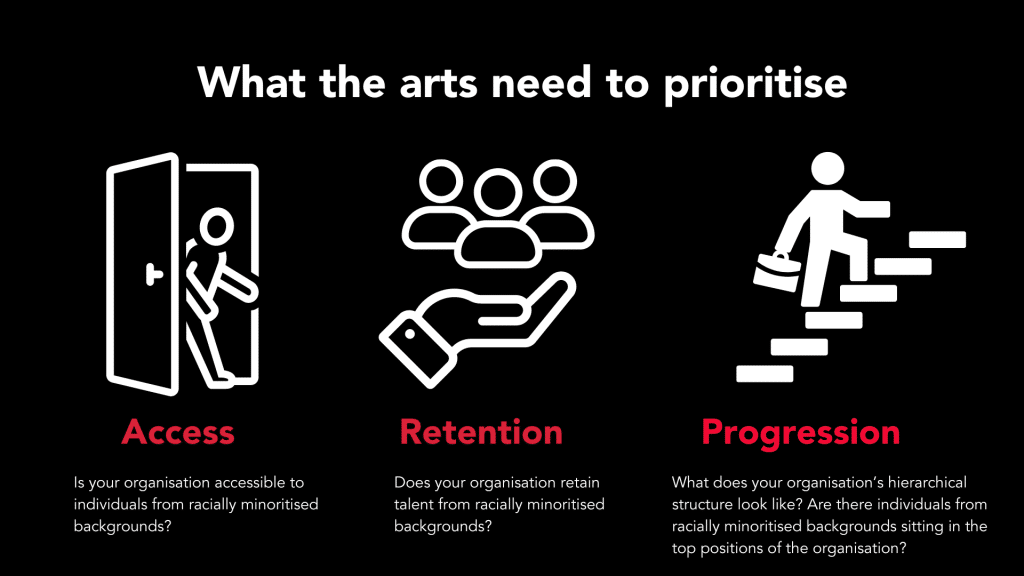 "I worked in the arts previous to setting up You Make It. My experience told me that when Black or Asian people like me do get into those spaces, and there are fewer of us in them than there should be, we aren't treated well and have to leave because a majority of White colleagues aren't aware of why and how to be anti-racist allies." Asma Shah, Founder and CEO of You Make It
How will ACE encourage organisations to stand up?
With many organisations receiving positive news of their NPO funding, now is the time for to have a clear plan of action to address the above areas. ACE will be expecting organisations to:
Identify which communities are under-represented internally across their workforce, leadership and governing bodies as well as across their programming and audiences. 
Create targets and actions linked to the above that are owned and monitored at the board level or equivalent. 
ACE will be enforcing sanctions if organisations fail to make sufficient progress against their defined targets. These will take effect in 2023, meaning that organisations must prioritise this work.
What can be done to improve your organisation's work towards racial justice?
Ensure that all staff are aligned with the organisational commitment to anti-racism – by giving them the space/and support to explore what anti-racism looks like within their organisation
Explore how your organisation is currently accessing talent from racially minoritised backgrounds and what can be done differently to target these individuals. 
Ensure the organisation is aware of the barriers that affect the progression and retention of racially minorities individuals – this could include ensuring pay equity and creating new ways of supporting underrepresented groups into senior positions. 
How can we help you?
You Make It has been working on the racial justice agenda for over 11 years. Through our human-centred programmes, we empower: employees to activate anti-racism in their organisations; and marginalised young women to access the social, cultural and economic life of their city.
In 2020, we launched You Change It our anti-racism allyship programme for professionals centred around building an emotional and intellectual connection to the lived experience of minoritised groups so that they can become better allies. 
Previous clients include companies of all sizes from across the arts, culture, fashion, music and tech sectors who we've enabled to become more self-aware, knowledgeable and confident to challenge when observing racism.
Our lead facilitator is Asma Shah, Founder & CEO of You Make It, with over 20 years of management experience working on new talent and diversity agendas (including for Screen Skills, Channel 4 and Roundhouse). Shah is a 2008 fellow of the Clore Leadership Programme, a public speaker on issues of race and inclusion, and an advisor on the Mayor of London's Equalities, Diversity and Inclusion board.
What's the impact of You Change It? 
Our 2021 evaluation revealed that of 300 individuals who accessed You Change It: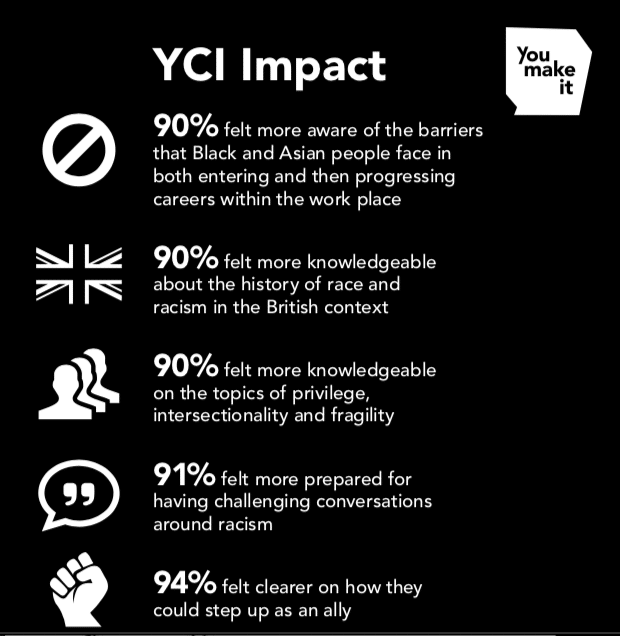 All participants also emerged from our programme with a list of self-defined actions spanning across their teams and functions within their organisations to progress their commitment to anti-racism.
"Our whole team were able to experience the support and opportunity for safe, open dialogue, and plan actions together as a result of the skilful facilitation and careful preparation of the You Change It team." 
Jim Minton, Chief Executive at Toynbee Hall 
Take action now!
Now is the time to act. The positioning from ACE highlights that racial justice within arts organisations must be prioritised.
You Change It can support your organisation to work towards solidifying allyship and anti-racist practices. If you would like to explore how You Change It could support your organisation, please get in touch with our Director of Development at [email protected]